First of all, may I say how nice it is to meet all of you out there in Addicted to Recipes land! I am so thrilled to be guest blogging today. In fact, this is my guest blogging debut; so thanks, Dawn, for the opportunity!
My name is
Sherry K
- pianist, composer, and national cooking contest finalist. I'm also known as the
Jazzy Gourmet
, because when I'm home, I like to jazz up my meals. I have an array of how-to videos, filled with jazzed up recipes, quick tips, gadget reviews and learn-from-my-mistakes advice.
My friend Bud, our very special spud, is going to help me introduce our recipe for today.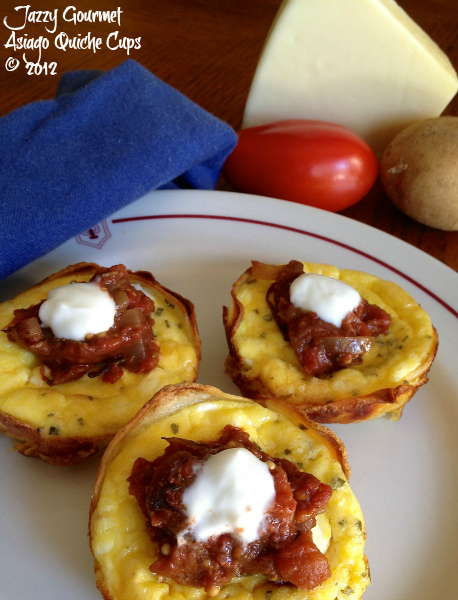 Asiago Quiche Cups with Tomato Jam make a great appetizer or side dish for any meal. We start with thinly sliced potatoes formed into a cup. Then we load the cups with a luscious cheesy quiche filling, topped with tangy tomato jam. Bud says they are so good, you might not be able to stop with just one!
Asiago Quiche Cups with Tomato Jam
Tomato Jam:
1 teaspoon olive oil
1/4 cup chopped onion
1 large tomato, peeled and chopped
1/2 teaspoon mustard seed
1/2 teaspoon dried thyme
1/2 teaspoon cinnamon
1/2 tablespoon molasses
1 tablespoon red wine vinegar
a pinch of chili pepper flakes
Asiago Quiche Cups:
1 large potato, peeled
2 teaspoons olive oil
1/2 teaspoon salt, divided
2/3 cup heavy cream
2 eggs
4 ounces reduced fat cream cheese, softened
3/4 cup grated asiago cheese
1 teaspoon finely chopped fresh rosemary
1/4 teaspoon freshly ground pepper
sour cream for garnish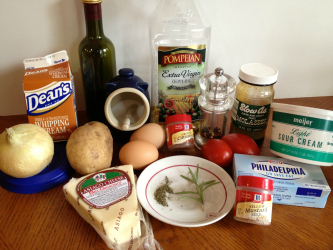 For the jam, heat a small saucepan to medium high heat. Add 1 teaspoon olive oil. When the oil begins to shimmer, add the onions and cook for a few minutes until tender. Stir in the tomato, mustard seed, thyme, cinnamon, molasses, vinegar and chili pepper flakes. Turn the heat down to low and simmer until the mixture reduces and becomes thick, about 40-50 minutes.
Preheat your oven to 375 degrees F. While the jam simmers, start making the cups by slicing the potato thinly on a mandolin. Toss the slices with 2 teaspoons olive oil and 1/4 teaspoon salt.
Spray cooking spray onto 8 cups of a 12-cup muffin pan. Divide the potato slices evenly into each of the 8 cups, arranging them to form the outline of the cup.
Place in a 375 oven for 15 minutes.
In the meantime, place cream, eggs, cream cheese, asiago cheese, rosemary and pepper in a medium bowl and whisk thoroughly. When the potato cups have cooked for 15 minutes, remove them from the oven and ladle the egg/cheese mixture evenly into each of the 8 cups.
Return to the oven and cook for an additional 20-25 minutes, or until golden and puffy. Remove cups from the oven and garnish with Tomato Jam and sour cream. Serve immediately. Makes 8 cups Watch video here: